SEI Scientific Report
The San Miguel Headwaters • Valley floor, Telluride Colorado
Scientific Analysis, Synthesis and Recommendations
A Special Report from Sustainable Ecosystems Institute (SEI)
"All land use decisions should start with a sound understanding of the science and ecology. I congratulate the residents of Telluride and the scientists for taking this important step."—Former Secretary of the Interior Bruce Babbitt
Introduction and History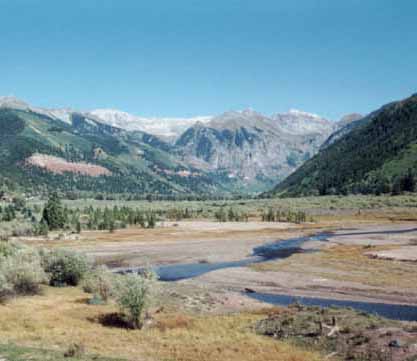 The Valley Floor is a unique ecosystem in Southern Colorado. In spite of the impact of human activities, it has retained biological integrity. Its wetlands and riparian areas, in particular, provide important habitats and resources. These habitats are currently at risk from on-site and upstream activities and development. The future of the Valley Floor and the future of the Telluride Region are intrinsically linked. In the interests of the best future for both, SEI and a group of Telluride citizens undertook a scientific evaluation of the San Miguel Headwaters and the Valley Floor. The approach was to move beyond polarized opinions and to provide scientific guidelines for sustainable land management. Toward this end, SEI gathered and evaluated information to answer two central questions:
1. What is the biological value and health of the ecosystem?
2. What will it take to maintain and/or restore the natural habitat?
SEI